Tell-Tale Spice
Clean Your Cauldron
Gone Grunge
Free Mystery Single!!
Buy any 3 items and get 1 FREE Mystery Single!!
Just add the Mystery Single to your cart and it will appear free at checkout with a 3 item purchase!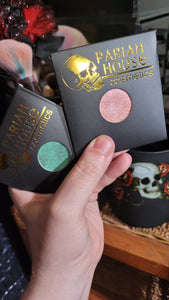 Testimonials
This is where true self-pampering magic and alchemy is born and forged or rather pressed. If you can dream up a shade, tone or pigment shifting story, Pariah House Cosmetics can pan it. I now own several customs by them that range from capturing the alluring blue flash of a moonstone to the delicate golden glow of a rising autumn moon and those are only the beginning as I plan to add to my eye makeup library with yet another palette by next spring. The process is simple, stress-free and above all fun! Honestly eye make-up shouldn't be this fun to play with or create. The owner loves a challenge and is a delight to work with as she provides stellar customer service and end presentation. This is one venture I can't recommend enough. Custom Eye Shadows

ALady
I have a pretty big collection of singles and this shadow is one of my favorites. The forumla is silky smooth not chunky or flaky. The shifts in it are beautiful. I highly recommend grabbing this you wont be sorry and what a beautiful story behind it. Auroras Wings

DD
Out of my entire eye shadow library from Pariah, THIS is the shade that changed everything for me and has started a whole new chapter in my mindset and wardrobe. In the pan, Something Wicked is an eternal black (laced with hints of green) and a blood-fire waiting to be unveiled on the lid. Practically any single pigment you choose to pair Something Wicked with it curiously pulls your desired look together and adds a sharp bite to everything. It's a completely transformative experience that is honestly impossible to completely explain, needless to say, worth every penny! Something Wicked

ALady
Sign up for Discounts!
Promotions, new products and sales. Directly to your inbox.